Our Services
Post Surgical Care
Post surgical therapy helps to restore your mobility and strength following your surgery. Regaining full strength, in addition to range of motion and coordination is necessary for you to return to your daily activities. Our post surgical rehabilitation programs are designed to reflect your individual needs and are based upon restoring your function using proven treatment protocols.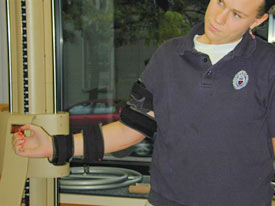 Post Surgical Rehabilitation is common for most of the following procedures:
Rotator Cuff Repairs
Shoulder Impingements and Tears
Carpal Tunnel Release
Tennis Elbow Surgery
Trigger Finger Release
Arthroscopic Surgery of the Wrist and Shoulder
Basal Joint Arthroplasty
Distal Radius Fractures/Volar Plating
At the Hand and Upper Body Rehabilitation Center our patient centered therapy staff is highly skilled in helping you to return to work or play. Learn more about how we can give you a "Hand Up in Healing!" – call our office today!
Our Services and Conditions We Treat: