Our Services
Arthritis Treatment and Education
Physical and Occupational Therapy can do for your arthritis what nothing else can – it can help you get back what arthritis has taken from you!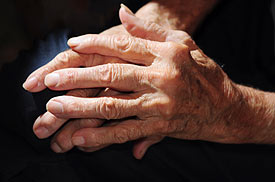 Our goal is to give you the tools you need to return to your everyday activities without difficulty. Our skilled therapists will assess the severity of your arthritis and develop a customized program for you. Our Physical and Occupational Therapy Team will educate you about your type of arthritis. They will teach you exercises to preserve the strength and use of your joints, and show you how to reduce strain on your joints during daily activities.
Arthritis therapy should be started early after diagnosis to reduce painful symptoms of inflammation, prevent deformity and joint stiffness, and maintain strength. Therapeutic methods used by your Therapist may include:
Thermal modalities such as ice or heat packs or ultrasound
Stretching and strengthening exercises
Massage
Activity modification techniques
Joint protection such as orthotics (splints) or assistive devices
At the Hand and Upper Body Rehabilitation Center we have been educating and treating patients with arthritis for 30 years. Our skilled and compassionate care can get you back on the road to wellness. Make an appointment today!
Our Services and Conditions We Treat: